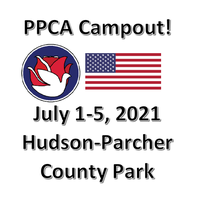 WHAT:

2021 Portland Peace Corps Association
Local 4-Night Family Campout

WHEN:

Thursday afternoon, July 1st thru Monday noon, July 5th

WHERE:

Hudson-Parcher County Park, Columbia County, Rainier, OR
about an hour from Ptld. * Group Site 14 *

Hudson-Parcher Park is located four mile northwest of Rainier, which is 65 mins from Ptld. Turn off US 30 onto Larson Rd, then 1/3 mile to park entrance. Be advised that there's no sign to the park entrance, so look for some kind of PC signage if we're able to post something.

GPS:

WHO:

Everyone is welcome. It's an awesome campground for kids!

RV-ers:

RVs, trailers, or campers should reserve their spot elsewhere in the park.

Link to the Park on ReserveAmerica.com

NOTICES:

There's only one picnic table provided and only one fire ring. Bring your own table! Bring

container(s) for water. The spigot is close by but not in our site. There's only one narrow

strip of shade so bring your canopy. Bring masks for everyone in your crew.

FEES:

Regardless of when you arrive or leave, pay $16 for each person age 12 and over. Kids

under 12 are free. Pay on the PPCA website or by cash or check at the campground. Find

Treasurer Brenda Michel.

REGISTER:

Register ASAP on the PPCA website and/or by email to: Treasurer@crpca.org

Include 5 details: Your name, how many total people in your crew including you, arrival

and departure dates, how many kids, and how many vehicles. The limit is 32 adults fo

this event.
---