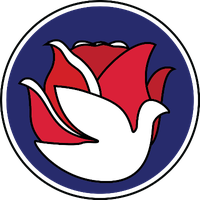 Annual Report 2018
This annual report of CRPCA's activitie, membership, and finances covers the period from October 1, 2017 to September 30, 2018.
We strengthened our support for refugees.
We celebrated green card applications by the Li family, Fulon Gong refugees from China, who we began sponsoring in 2016.
We continued our sponsoring relationship with the Alyafi family from Syria, who arrived in May 2017.
In March we began a sponsoring relationship with the Kalume family, newly arrived from a refugee camp in Tanzania but hailing from Democratic Republic of the Congo.
Our grants reached three continents.
$2,000 was awarded to Chankiek Primary School toward construction of a school with instruction in English and a minority language in Chankiek, Cambodia.
$2,000 was awarded to Ghana Community Pathways toward a water and sanitation system for a school in Talensi-Nabdam, Ghana.
$800 was awarded to Refugee Immigrant Hospitality Organization toward community food events for refugees and immigrants in metropolitan Portland, Oregon.
$700 was awarded to Schools for Salone toward menstruation kits and health education at schools in Sierra Leone.
$500 was awarded to Trash for Peace toward a pilot summer camp for historically underrepresented youth at an affordable housing site in metropolitan Portland, Oregon.
We liked volunteering together.
At our three service shifts at the Oregon Food Bank (January, May, and July), we sorted, bagged, and boxed food to promote food security in Oregon and southwest Washington.
At our 2 service shifts each at St André Bessette (March and June) and at Clay Street Table (August and September), we served hearty meals to people surviving poverty and homelessness in downtown Portland.
We had single service shifts with Habitat for Humanity (November) and Alberta Street Cleanup (April).
Our programs were varied and interesting.
October: Committee for a Museum of the Peace Corps Experience: CRPCA's Nicola Dino (Ecuador 1995-1997) spoke of the progress made by CMPCE since its 1999 founding in Portland.
November: Young Leaders in Action: World Oregon's Laura Lyons (The Gambia 2013-2015) described motivated local students' eagerness to learn from RPCVs.
January: Immigration and Mercy Corps: Mercy Corps volunteer Tsehay spoke of immigration to the USA.
March: Wildfire: What to Expect and What to Do: CRPCA's Mike Waite (Liberia 1974-1975) reflected on his career with the U.S. Forest Service and how organizations work together to control fires and keep people safe.
May: Ko-Falen, the Gift Exchange: Bridging Two Cultures: Baba Wagué Diakité spoke of initiatives to share culture in Mali and the U.S. via storytelling.
We engaged our community regarding the world.
After a year's hiatus, we returned to carrying the flags of our countries of service in the 82nd Avenue of Roses Parade (April) and the Grand Floral Parade (June).
Our International Development Happy Hour happened in October, January, April, and July. Our partner organizations in IDHHs are IRCO, Jubilee Oregon, RESULTS Portland, and Women's International Leadership and Learning.
In February we sponsored the Cascade Festival of African Films.
In March members participated in Portland Stands with Immigrants and Refugees.
We liked talking about our Peace Corps experiences.
Our Writers' Workshop gathered six times (every month between February and June, plus September) to enhance participants' writing skills.
We assisted Peace Corps recruiters by providing speakers for Lessons from Abroad (October), Home for the Holidays (December), Peace Corps Send-Off (May), and Stories from LGBTQ Volunteers (June).
We were invited to a milestone celebration with the Committee for a Museum of the Peace Corps Experience (July).
We received a community speaker request from Ko-Falen Cultural Center (August).
We represented Peace Corps with a table at the Vancouver Peace and Justice conference (September).
Our Book Club discussed twelve books and hosted five authors.
October: Sky Burial: An Epic Love Story of Tibet (2005) by Xinran.
November: The Nightingale of Mosul: A Nurse's Journey of Service, Struggle, and War (2010), by Susan Luz (RPCV Brazil 1972-1975), with Marcus Brotherton.
December: The Embassy: A Story of War and Diplomacy (2016) by Dante Paradiso (RPCV Kenya 1993-1995), who participated in our discussion via Skype.
January: Walled In, Walled Out: A Young American Woman in Iran (2017) by Mary Dana Marks (RPCV Iran 1964-1966), who participated in our discussion via Skype.
February: Secondhand Time: The Last of the Soviets (2013/2016) by Svetlana Alexievich (2015 Nobel Literature Prize).
March: The House at Sugar Beach: In Search of a Lost African Childhood (2008) by Helene Cooper.
April: The Road to Oxiana (1937/2007) by Robert Byron.
May: The Brightest Sun (2018) by Adrienne Benson, RPCV Nepal (1992-1994), who participated in our discussion via Skype.
June: The Grass is Singing (1950), by Doris Lessing (2007 Nobel Literature Prize).
July: River of Renewal: Myth and History in the Klamath Basin (2006), by Stephen Most (RPCV Peru 1965-1967), who participated in our discussion via Skype.
August: Whiteman (2006) by Tony D'Souza (RPCV Côte d'Ivoire, Madagascar 2000-2003), who participated in our discussion via Skype.
September: Come to Africa and Save Your Marriage, and Other Stories (1987) by Maria Thomas (RPCV Ethiopia 1971-1973).
We camped in the summer.
In June we held our 10th annual Family Campout at The Cove Palisades State Park near Madras, Oregon.
In August our members attended (and we coordinated registrations for) the 28th annual Northwest Regional Peace Corps Campout at Riverside State Park near Spokane, Washington, hosted by the Inland Northwest Peace Corps Association.
We found more excuses to gather.
Our Sí, se puede occurred doce veces, todos los meses.
Our Salon Francophone occurred neuf fois, octobre et chaque mois entre février et septembre.
We shared stories and drinks at eight Pub Nights.
We dined together at five Restaurant Gatherings, for Ethiopian, Indian, Korean, Mediterranean, and Thai cuisines.
We organized group outings to two Portland Timbers games and resold vouchers for Portland Thorns games, in a year in which both of our professional soccer teams reached their league championship games.
We offered an average of 6.5 events per month. March was our month with the most events (9). December was our month with the fewest events (4).
Our board was productive.
At our four Business Meetings (October, December, April, and September), we awarded grants, elected officers, and determined our budget and priorities for FY2019.
We created a new board position, Advocacy Coordinator, strengthening our commitment to priorities of the National Peace Corps Association.
We voted to do business as our new name, Portland Peace Corps Association, beginning in 2019.
We communicated on multiple platforms.
We sent 43 e-updates to our current members, generally weekly in the weeks without newsletters.
We published 12 newsletters to our members and on our website.
We continued using Facebook, and we started a presence on Instagram.
We surveyed our members about 2018 Timbers game outings (January) and about 2019 book selections (May).
We reserved the URL portlandpeacecorps.org, where our new website will launch in February 2019.
Folks kept joining and renewing.
CRPCA has 187 member households and 223 individual members.
3% of our members are currently serving Peace Corps Volunteers.
17% of our members are Returned Peace Corps Volunteers in their free first year of membership.
CRPCA's members have served or are serving in 80 different countries. Among our members, 9% served in the Peace Corps 2+ times.
The most frequent countries of service among our members are Ecuador and Morocco (10 members each), Thailand (9 members), and Ghana, Niger, Panama, and Peru (6 members each).
15 member households contributed our supporting membership dues.
Here is the breakdown of our PCV/RPCV members by first year of service:
1960s: 48
1970s: 29
1980s: 31
1990s: 25
2000s: 38
2010s: 42
We raised funds toward next year's grants.
In the fall and winter we sold 2018 International Calendars, plus perpetual calendars and note cards.
In July we had a successful Summerfest Fundraiser at Lagunitas Community Room.
We used members' money wisely.
| | | |
| --- | --- | --- |
| | Income | Expenses |
| | | |
| Membership | $4,490 | |
| Individual/Corporate Donations | $25 | |
| Refugee Support Fund | $378 | $40 |
| Events | | |
| Family Campout | $413 | $478 |
| Regional Campout | $282 | $253 |
| Summerfest Fundraiser | $3,754 | $1,069 |
| Ballgames, etc. | $1,326 | $1,328 |
| Events Subtotal | $5,775 | $3,168 |
| Grants Disbursed | | $6,550 |
| Calendar & Card Sales | $2,925 | $2,053 |
| Operating Expenses | | |
| Website, PO box, etc. | | $387 |
| Fees (State of Oregon) | | $50 |
| Operating Expense Subtotal | | $437 |
| | | |
| Total | $13,593 | $12,208 |
We're poised to do great things.
| | |
| --- | --- |
| | |
| Assets | |
| Cash in Bank Accounts | $14,965 |
| Total Assets | $14,965 |
| Liabilities | |
| Accounts Payable | $235 |
| | |
| Equity | |
| Unrestricted Net Assets | $11,759 |
| Flag Collection Fund | $2,199 |
| Refugee Support Fund | $743 |
| Regional Campout Fund | $29 |
| | |
| Total Equity | $14,730 |
| Total Liability and Equity | $14,965 |
---