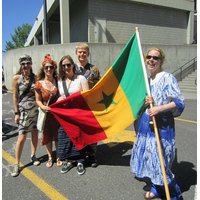 RPCVs March in the 2022 Spirit Mountain Casino Grand Floral Parade

WHAT

RPCVs March in the 2022 Grand Floral Parade

The Portland Peace Corps Association has once again been accepted by the Rose Festival Committee to march in the Grand Floral Parade. Show your Peace Corps pride and join us by carrying your country's flag (or one close by) in Portland's Rose Festival Grand Floral Parade! Our goal is to have as many countries represented as possible.

WHEN

Saturday, June 11th from 10 am to 12 noon.
But plan on your involvement from 8 am to 2 pm.

WHERE

It's a little bit shorter route this year than in the past. This year the Spirit Mountain Casino Grand Floral Parade begins by traveling through the Memorial Coliseum. It then travels down MLK Jr. Blvd, turns left on Lloyd Blvd, and ends at Multnomah near the Lloyd Center. The parade route will not cross the river into downtown, from the east to the westside.

WHO

All RPCVs, their families, and friends are invited to walk with us. We need to show a nice big group, so our numbers are of the essence. Kids 12+ are welcome, too, but absolutely no pets.

POTLUCK & PARADE PRACTICE

Thursday 09 June from 6:00 pm to 8:00 pm. Parade Practice Picnic at Willamette Park, SW Macadam & Nebraska Streets in Portland. We will have a potluck dinner first, then practice parade formation and go over all logistical details. Please bring a dish to share to the potluck picnic.

Participation is strongly advised for all who've never marched with us, and all of our members, friends and family are welcome, whether marching or not. We will gather near the playground at the south end of the park. Parking is free after 5:00 pm.

IF RAIN?

The parade goes forward in any / all weather, and marchers should be prepared to walk almost two miles. Note: If you are wheelchair-bound and wish to participate, a volunteer assistant (pusher) would be required for the duration of the event. Bring sunscreen or hat to protect yourself.

WHAT TO WEAR

ATTIRE: Marchers will have the choice of wearing host country attire -or- PPCA's parade t-shirt with khaki pants. We will make PPCA t-shirts available for sale should you want one.

FORM

Flags are assigned on a first-come, first-served basis! Get your flag NOW by filling out this form. All marchers -must- complete a "Hold Harmless Form" for liability purposes.

The form is due to Tom Demeo on or before Wednesday 11 May.
---