Past Authors N to S

Naipaul, V.S.*: A House for Mr. Biswas (1961)
* 2001 Nobel Literature Prize
Our discussion took place: January 2014
Review: © Goodreads: The early masterpiece of V.S. Naipaul's brilliant career, A House for Mr. Biswas is an unforgettable story inspired by Naipaul's father that has been hailed as one of the twentieth century's finest novels. In his forty-six short years, Mr. Mohun Biswas has been fighting against destiny to achieve some semblance of independence, only to face a lifetime of calamity. Shuttled from one residence to another after the drowning death of his father, for which he is inadvertently responsible, Mr. Biswas yearns for a place he can call home. But when he marries into the domineering Tulsi family on whom he indignantly becomes dependent, Mr. Biswas embarks on an arduous and endless struggle to weaken their hold over him and purchase a house of his own. A heartrending, dark comedy of manners, A House for Mr. Biswas masterfully evokes a man's quest for autonomy against an emblematic post-colonial canvas.
Where to find it:
Libraries: Clackamas Co | Ft Vancouver | Multnomah Co | Washington Co
Vendors: Powell's | Amazon | Barnes & Noble
---

Nayeri, Dina: The Ungrateful Refugee: What Immigrants Never Tell You (2019)
Our discussion took place: April 2020. Participating in our discussion was Dina Nayeri, the book's author.
Review: © Booklist: This book's combination of personal narrative and collective refugee story is compelling, necessary, and deeply thought and felt. Writing with truth and beauty, Nayeri (Refuge, 2017) reckons with her own past as a refugee, having left Iran at age eight with her mother and brother to eventually settle in Oklahoma. As an adult she has a daughter and does not want to pass down a legacy of identity confusion and a compulsion to move every few years. Throughout her escape, migration, and assimilation, Nayeri understood the importance of telling a story (even if only partially true) that casts her as an intensely desperate person welling with gratitude to be in a better place. Trouble would follow if she judged Iranian pastry superior to the bright blue American slushy, or if she admitted that Iranian school was more rigorous while waiting for her American peers to catch up in math. As part of her inquiry, Nayeri visits a refugee camp in Greece and talks to families still enduring years-long limbo. Folks live in Isobox containers, shop at a store with points in lieu of money, and approximate dishes from home to feel grounded. This valuable account of refugee lives will grip readers' attention.
Where to find it:
Libraries: Clackamas Co | Ft Vancouver | Multnomah Co | Washington Co
Vendors: Powell's | Amazon | Barnes & Noble
---

Newby, Eric: A Short Walk in the Hindu Kush (1958)
Our discussion took place: December 2018
Synopsis: A classic of travel writing, A Short Walk in the Hindu Kush is Eric Newby's iconic account of his journey through one of the most remote and beautiful wildernesses on earth. It was 1956, and Eric Newby was earning an improbable living in the chaotic family business of London haute couture. Pining for adventure, Newby sent his friend Hugh Carless the now-famous cable – CAN YOU TRAVEL NURISTAN JUNE? – setting in motion a legendary journey from Mayfair to Afghanistan, and the mountains of the Hindu Kush, north-east of Kabul. Inexperienced and ill prepared (their preparations involved nothing more than some tips from a Welsh waitress), the amateurish rogues embark on a month of adventure and hardship in one of the most beautiful wildernesses on earth – a journey that adventurers with more experience and sense may never have undertaken. With good humour, sharp wit and keen observation, the charming narrative style of A Short Walk in the Hindu Kush would soon crystallise Newby's reputation as one of the greatest travel writers of all time.
Where to find it:
Libraries: Clackamas Co | Multnomah Co | Washington Co
Vendors: Powell's | Amazon | Barnes & Noble
---

Nguyen, Viet Thanh: The Sympathizer* (2015)
* 2016 Pulitzer Prize for Fiction
Our discussion took place: November 2020
Review: © Publishers Weekly: This astonishing first novel has at its core a lively, wry first-person narrator called the Captain, and his two school friends Bon and Man, as they navigate the fall of Saigon and the establishment of the Communist regime in Vietnam in 1975. The Captain is a half-Vietnamese double agent; he reports to his Communist minder Man who, unbeknownst to Bon, is a Republican assassin. The Captain and Bon make it on to one of the harrowing last flights out of Saigon as the city is overtaken by the Viet Cong. They travel with the Captain's superior, the General, and his family, although Bon's own wife and son are shot making their escape. The Vietnamese exiles settle uncomfortably in an America they believe has abandoned their country, as they are reduced to new roles as janitors, short-order cooks, and deliverymen. The General opens a liquor store, then a restaurant (in which his proud wife cooks the best pho outside Vietnam) as a front to raise money for a counter rebellion. In order to protect his identity as a spy, the Captain is forced to incriminate others, and as lines of loyalty and commitment blur, his values are compromised until they are worthless. Nguyen's novel enlivens debate about history and human nature, and his narrator has a poignant, often mirthful voice.
Where to find it:
Libraries: Clackamas Co | Ft Vancouver | Multnomah Co | Washington Co
Vendors: Powell's | Amazon | Barnes & Noble
---

Packer, George*: The Village of Waiting (1988)
* RPCV Togo (1982-1983)
Our discussion took place: February 2013
Review: © Publishers Weekly: In 1982-83, Packer worked for the Peace Corps as an English teacher in the village of Lavie in Togo, West Africa, and here recounts his occasionally comic, more often poignant, and frequently tragic experiences in sharp, descriptive prose. He does not romanticize Africa or Africans, but writes with an honest sense of realism and the perspective of an outsider who nevertheless cares very deeply for his subject: "The struggle to stay afloat took on endless variations in Togo. And the white foreigner who'd come on an enlightened mission, and once there managed to keep his eyes open, quickly lost his bearings in the face of it." A great deal of his passion and frustration is directed at an educational system that is impoverished, archaic and based in equal parts on rote and beatings. For Packer, Togo's educational system is a symbol of its present condition, the enduring product of a colonial legacy that has fostered both a chronic national economic crisis and a deep sense of personal inferiority among many of the Africans whom he met. The author presents a full view of Togolese customs and society, exploring such topics as work, medical care, marriage and sex, politics, drought and tourists. He is at his best when he writes about people, including himself, because he treats them not as simple characters or types, but as complex personalities, revealing their histories and psychologies with great sympathy and care.
Where to find it:
Libraries: Multnomah Co
Vendors: Powell's | Amazon | Barnes & Noble
---

Paradiso, Dante*: The Embassy: A Story of War and Diplomacy** (2016)
* RPCV Kenya (1993-1995)
** 2017 Paul Cowan Non-Fiction Award
Our discussion took place: December 2017. Participating in our discussion was Dante Paradiso, the book's author.
Review: © Kirkus Reviews: Paradiso (The Pure Life, 2005) tells the story of how the staff of the American Embassy in Monrovia attempted to halt the second Liberian civil war. By the summer of 2003, "the Liberian civil war had lasted three years, or thirteen, or twenty-three, depending on how you counted." As two different rebel armies approached Monrovia from different directions, the government of the corrupt, violent president Charles Taylor was struggling to hold onto power. The capitol was filled with militias loyal to Taylor, including units composed of child soldiers, whose unpredictable behavior made them as fearsome to the local populace as the rebels on the city's outskirts. When word reached Liberia that an international criminal court was seeking to indict Taylor for war crimes, the fragile situation exploded: the rebel armies attacked and plunged Monrovia into heated combat. The last bastion of reason and hope for the city was U.S. Ambassador John William Blaney III and his team, holed up in the American Embassy. As the neighborhoods around them descended into chaos, this disparate group of diplomats, soldiers, and contractors worked to broker a cease-fire and provide a beachhead for the West African peacekeeping force that was attempting to restore order. Paradiso's book tells a story about people who took on the seemingly impossible task of keeping all hell from breaking loose. He has a novelist's sense of pacing and character, assembling the story from the perspectives of the various people involved—from those who witnessed the events from the embassy offices to others in the streets of the capital. Paradiso's prose captures the surreal landscape of his subject, although he takes pains not to exoticize or romanticize the various groups involved: "The world press, which otherwise ignored the country, was quick to run images of child fighters dressed in lurid wigs and wedding dresses, wearing necklaces of human fingers." Overall, this book offers an engaging story that will be unfamiliar to many American readers as well as a nuanced look at the grittiness and complexity of war and diplomacy. A compelling account of an obscure international crisis.
Where to find it:
Libraries: Clackamas Co | Ft Vancouver | Multnomah Co | Washington Co
Vendors: Powell's | Amazon | Barnes & Noble
---

Park, Yeonmi, with Maryanne Vollers: In Order to Live: A North Korean Girl's Journey to Freedom (2015)
Our discussion took place: November 2016
Review: © Kirkus Reviews: The latest in an increasing number of narratives of escape from North Korea. Human rights activist Park, who fled North Korea with her mother in 2007 at age 13 and eventually made it to South Korea two years later after a harrowing ordeal, recognized that in order to be "completely free," she had to confront the truth of her past. It is an ugly, shameful story of being sold with her mother into slave marriages by Chinese brokers, and although she at first tried to hide the painful details when blending into South Korean society, she realized how her survival story could inspire others. Moreover, her sister had also escaped earlier and had vanished into China for years, prompting the author to go public with her story in the hope of finding her sister. The trauma underlying Park's story begins in her hometown of Hyesan, North Korea, just across the Yalu River from China. There, the state-supported economy had collapsed, leaving the people to fend for themselves. The author survived the famine of the 1990s thanks to the black-market trading of her enterprising parents. In an oppressed, heavily censored society where one is not allowed to think for oneself and "even the birds and mice can hear you whisper," the police hounded the family and eventually nabbed the father for smuggling. Rumors that North Korean women could find jobs in China lured the women to agree to be smuggled across the river, where rape and hideous exploitation awaited from the hands of a network of Chinese human traffickers. In a fluid narrative facilitated by co-author Vollers (Lone Wolf: Eric Rudolph: Murder, Myth, and the Pursuit of an American Outlaw, 2006, etc.), Park offers poignant details of life in both North Korea and South Korea, where the refugees were largely regarded as losers and failures before they were even given a chance. An eloquent, wrenchingly honest work that vividly represents the plight of many North Koreans.
Where to find it:
Libraries: Clackamas Co | Ft Vancouver | Multnomah Co | Washington Co
Vendors: Powell's | Amazon | Barnes & Noble
---

Patchett, Ann: State of Wonder (2011)
Our discussion took place: July 2015
Review: © Publishers Weekly: Patchett (Bel Canto) is a master storyteller who has an entertaining habit of dropping ordinary people into extraordinary and exotic circumstances to see what they're made of. In this expansive page-turner, Marina Singh, a big pharma researcher, is sent by her married boss/lover to the deepest, darkest corner of the Amazon to investigate the death of her colleague, Anders Eckman, who had been dispatched to check on the progress of the incommunicado Dr. Annick Swenson, a rogue scientist on the cusp of developing a fertility drug that could rock the medical profession (and reap enormous profits). After arriving in Manaus, Marina travels into her own heart of darkness, finding Dr. Swenson's camp among the Lakashi, a gentle but enigmatic tribe whose women go on bearing children until the end of their lives. As Marina settles in, she goes native, losing everything she had held on to so dearly in her prescribed Midwestern life, shedding clothing, technology, old loves, and modern medicine in order to find herself. Patchett's fluid prose dissolves in the suspense of this out-there adventure, a juggernaut of a trip to the crossroads of science, ethics, and commerce that readers will hate to see end.
Where to find it:
Libraries: Clackamas Co | Ft Vancouver | Multnomah Co | Washington Co
Vendors: Powell's | Amazon | Barnes & Noble
---

Roy, Arundhati: The Ministry of Utmost Happiness (2017)
Our discussion took place: August 2019
Review: © Publishers Weekly: Appearing two decades after 1997's celebrated The God of Small Things, Roy's ambitious, original, and haunting second novel fuses tenderness and brutality, mythic resonance and the stuff of front-page headlines. Anjum, one of its two protagonists, is born intersex and raised as a male. Embracing her identity as a woman, she moves from her childhood home in Delhi to the nearby House of Dreams, where hijra like herself live together, and then to a cemetery when that home too fails her. The dwelling she cobbles together on her family's graves becomes a paradoxically life-affirming enclave for the wounded, outcast, and odd. The other protagonist, the woman who calls herself S. Tilottama, fascinates three very different men but loves only one, the elusive Kashmiri activist Musa Yeswi. When an abandoned infant girl appears mysteriously amid urban litter and both Anjum and Tilo have reasons to try to claim her, all their lives converge. Shifting fluidly between moods and time frames, Roy juxtaposes first-person and omniscient narration with "found" documents to weave her characters' stories with India's social and political tensions, particularly the violent retaliations to Kashmir's long fight for self-rule. Sweeping, intricate, and sometimes densely topical, the novel can be a challenging read. Yet its complexity feels essential to Roy's vision of a bewilderingly beautiful, contradictory, and broken world.
Where to find it:
Libraries: Clackamas Co | Ft Vancouver | Multnomah Co | Washington Co
Vendors: Powell's | Amazon | Barnes & Noble
---

Rush, Norman*: Mating** (1991)
* Peace Corps Director, Botswana 1978-1983
** 1991 National Book Award for Fiction, 1992 Maria Thomas Fiction Award
Our discussion took place: June 2019
Review: © Library Journal: As in Whites, Rush's first collection of stories, this novel juxtaposes the relationship of two white Americans in Botswana against village life in that country. A woman anthropologist narrates her pursuit of and life with Nelson Denoon, a utopian socialist who set up an experimental matriarchal culture among poor African women in a remote area. Having met Denoon at a party, the anthropologist undertakes a dangerous trek alone through the Kalahari to Tsau, the site. After she gains the acceptance of the women, she is permitted to join Denoon, and their love story develops, interspersed with incidents in the village. Though there is plenty of action and interaction among the characters, this is largely a novel of ideas and anthropological information. The humor is at a sophisticated level, as is the vocabulary.
Where to find it:
Libraries: Clackamas Co | Ft Vancouver | Multnomah Co | Washington Co
Vendors: Powell's | Amazon | Barnes & Noble
---

Rushdie, Salman: Midnight's Children* (1980)
* 1981 Man Booker Prize, 2008 Best of the Bookers
Our discussion took place: June 2017
Teaser: Saleem Sinai is born at the stroke of midnight on August 15, 1947, the very moment of India's independence. Greeted by fireworks displays, cheering crowds, and Prime Minister Nehru himself, Saleem grows up to learn the ominous consequences of this coincidence. His every act is mirrored and magnified in events that sway the course of national affairs; his health and well-being are inextricably bound to those of his nation; his life is inseparable, at times indistinguishable, from the history of his country. Perhaps most remarkable are the telepathic powers linking him with India's 1,000 other "midnight's children," all born in that initial hour and endowed with magical gifts.
Where to find it:
Libraries: Clackamas Co | Ft Vancouver | Multnomah Co | Washington Co
Vendors: Powell's | Amazon | Barnes & Noble
---

Schell, Tim*: The Drums of Africa (2007)
* RPCV Central African Republic (1978-1979)
Our discussion took place: October 2016. Participating in our discussion was Tim Schell, the book's author.
Synopsis: Tim Schell's first novel, THE DRUMS OF AFRICA, is a gripping and timely tale of two young Americans, Val and Glen, arriving in Africa as Peace Corps volunteers in the 1970s, filled with altruism, naivete and a thirst for adventure. As the line between adventure and catastrophe narrows, Schell masterfully creates a mosaic of cultural perspectives and ethical tensions between faith and its lack, politics and revolutionary coups, lust and love set against an exotic backdrop rife with sorcerers, priests, corrupt politicians, poachers, coffee farmers, Peace Corps workers and prostitutes, a place leading each character inward to unexpected self-revelation and self-sacrifice. A richly panoplied novel, alive with sensuous detail and compelling narrative, THE DRUMS OF AFRICA is both an adventure tale and a philosophical rumination on the power of crisis and contradiction to test and ultimately transform ideals, laws, ancient instincts, faith and the challenges presented by human love met by human courage.
Where to find it:
Vendor: Amazon
---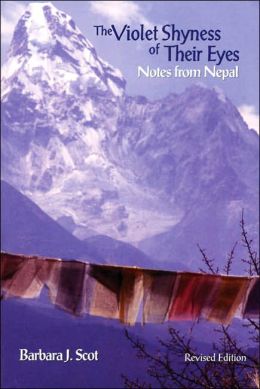 Scot, Barbara J*: The Violet Shyness of Their Eyes: Notes From Nepal (1993)
* RPCV Nepal (1990-1992)
Our discussion took place: November 2013. Participating in our discussion was Barbara Scot, the book's author.
Review: © Publishers Weekly: A sudden mid-life crisis in 1990 prompted high school social studies teacher Scot to leave Portland, Ore., for a stint teaching English in Nepal. The brief entries in this diary interweave her experience of Nepalese society, including the inferior status of Nepali women, with memories of what she describes as "a male-dominated childhood with no men," her father having left home when she was an infant. Although occasionally the analogies Scot draws are forced or disjointed, a sincere and generous tone strengthens the writing, and sometimes her observations are uncommonly just, as when she notes how her difficulties with the Nepali language have brought greater understanding of her son's struggle with dyslexia. Stories of culture shock are less revealing, such as the stilted dinner party at which Scot's roommate served spaghetti for their native neighbors. The most amusing anecdotes come out of Scot's attempts to assist a Nepali man in studying for the standardized Test of English as a Foreign Language (TOEFL), which involves listening comprehension of passages on topics like ordering the house dressing in a restaurant and the uses of Muzak.
Where to find it:
Libraries: Clackamas Co | Ft Vancouver | Washington Co
Vendors: Powell's | Amazon | Barnes & Noble
---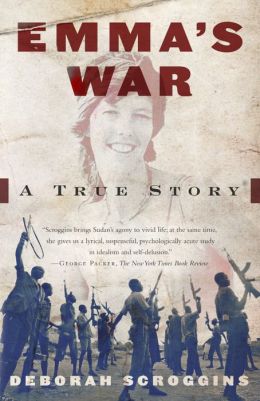 Scroggins, Deborah: Emma's War (2002)
Our discussion took place: November 2014. Participating in our discussion was Deborah Scroggins, the book's author.
Review: © The New Yorker: In 1991, in the middle of a refugee crisis in southern Sudan, a twenty-seven-year-old British aid worker named Emma McCune scandalized the relief community by marrying a local guerrilla leader; the author describes Emma's brief career as a "First Lady-in-Waiting" as "the kind of surreal sideshow that often accompanies disasters." Formerly a champion of children's rights, Emma couldn't stop her husband from holding hundreds of adolescent boys in a squalid camp. Although she embraced the hardships of African life (bouts of malaria, water teeming with bilharzia), she was well-fed by local standards, eating fish that her husband's soldiers had stolen from a weaker, starving tribe. Meanwhile, Emma's fellow-expatriates grew less enchanted with her the more "African" she became—sick and constantly in need. Scroggins, a veteran reporter on Sudan, uses Emma's story to examine the failure of Western idealism in Africa. Emma turned out to be an incidental character: she died in 1993, in a traffic accident in Nairobi; the fighting continues.
Where to find it:
Libraries: Clackamas Co | Multnomah Co | Washington Co
Vendors: Powell's | Amazon | Barnes & Noble
---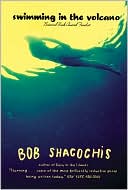 Shacochis, Bob*: Swimming in the Volcano** (1993)
* RPCV St Vincent & the Grenadines (1975-1976)
** 1994 Maria Thomas Fiction Award
Our discussion took place: September 2013
Review: © Library Journal: In the opening pages of Shacochis's splendid first novel, Mitchell Wilson, an American who works for the Ministry of Agriculture on the Caribbean island of St. Catherine, is heading downhill. His lost love, Joanna, has decided to drop into his life again, and he's on his way to the airport to meet her, riding in a dilapidated car whose brakes–dependent on coconut oil for braking fluid–have failed. Wilson's harrowing ride is a perfect metaphor for life on St. Catherine's and for the turn his own life is about to take. Joanna may have come to St. Catherine simply to escape trouble, but Wilson still bristles when a government official tells him to stay clear of her. He should have listened. This may sound like a fast-paced thriller, but though there's a mystery to crack at the heart of this richly detailed novel, Shacochis in fact offers a chilling evocation of the misunderstandings that arise between feckless Americans and struggling islanders for whom St. Catherine's is no paradise. The author's maximalist prose, lush as the tropics he's describing, could have used some pruning–but then we might have lost a few flowers.
Where to find it:
Libraries: Clackamas Co | Multnomah Co | Washington Co
Vendors: Powell's | Amazon | Barnes & Noble
---

Stanford, Eleanor*: História, História: Two Years in the Cape Verde Islands** (2013)
* RPCV Cape Verde (1998-2000)
** 2014 Moritz Thomsen Peace Corps Experience Award
Our discussion took place: May 2013. Participating in our discussion was Ellie Stanford, the book's author.
Synopsis: Twenty-two and newly married, Eleanor Stanford and her husband join the Peace Corps and find themselves on the West African islands of Cape Verde. In this beautifully alien place, as she teaches her students and struggles to come to terms with the island's fascinating yet frustrating culture, Eleanor watches everything she knows about relationships get flipped upside-down and attempts to hide the eating disorder she's developed, which threatens both her marriage and her life. Part travelogue, part cultural documentary, Historia, Historia combines journalistic excellence with the gripping style of personal memoirs to bring you this lyrical, moving portrait of an enchanting, little-glimpsed geography. Fans of factually informative and emotionally moving nonfiction will be drawn towards this haunting meditation on love, fidelity and self-image.
Where to find it: The e-book is free (donations are encouraged) at http://www.cclapcenter.com/historia/download.html in PDF, EPUB, and MOBI formats. Paper copies can be ordered at http://www.cclapcenter.com/historia/.
---

Stewart, Rory: The Places in Between (2006)
Our discussion took place: May 2010
Review: © Booklist: Stewart, a resident of Scotland, has written for the New York Times Magazine and the London Review of Books, and he is a former fellow at Harvard's John F. Kennedy School of Government. In January 2002, having just spent 16 months walking across Iran, Pakistan, India, and Nepal, Stewart began a walk across Afghanistan from Herat to Kabul. Although the Taliban had been ousted several weeks earlier, Stewart was launching a journey through a devastated, unsettled, and unsafe landscape. The recounting of that journey makes for an engrossing, surprising, and often deeply moving portrait of the land and the peoples who inhabit it. Stewart relates his encounters with ordinary villagers, security officials, students, displaced Taliban officials, foreign-aid workers, and rural strongmen, and his descriptions of the views and attitudes of those he lived with are presented in frank, unvarnished terms. Nation building in Afghanistan remains a work in progress, and this work should help those who wish to understand the complexities of that task.
Where to find it:
Libraries: Clackamas Co | Ft Vancouver | Multnomah Co | Washington Co
Vendors: Powell's | Amazon | Barnes & Noble
---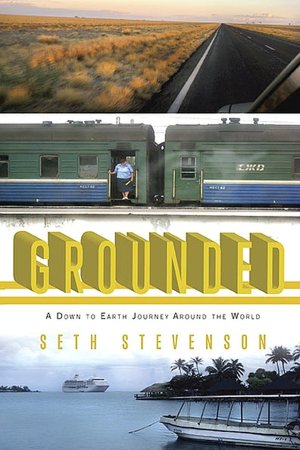 Stevenson, Seth: Grounded: A Down to Earth Journey Around the World (2010)
Our discussion took place: December 2012. Participating in our discussion was Seth Stevenson, the book's author.
Review: © Booklist: Anyone familiar with Jules Verne's Around the World in Eighty Days will already know the basic premise of Stephenson's book: an around-the-world voyage in which we visit strange lands, meet unusual people, and have interesting adventures. Unlike Phileas Fogg, however, Stevenson and his traveling companion (his girlfriend, Rebecca) have no deadline: they can take as long as they want to make their way around the globe. But, like Fogg, they intend to stay earthbound the entire time (his balloon trip wasn't on the original agenda), eschewing airplanes for cargo freighters, buses, bicycles, and other terrestrial forms of transportation. It's a very entertaining story, told in a spirited, engaging style (the author is an experienced travel writer). While falling in the very contemporary category of "extreme travel," this entertaining account manages to combine a hip modern approach with a charming nostalgic feel. A must for armchair travelers.
Where to find it:
Libraries: Clackamas Co | Multnomah Co | Washington Co
Vendors: Powell's | Amazon | Barnes & Noble
---

Swiller, Josh*: The Unheard: A Memoir of Deafness and Africa (2007)
* RPCV Zambia (1994-1996)
Our discussion took place: May 2014
Review: © Publishers Weekly: Although doctors diagnosed Swiller's deafness early enough to fit him with hearing aids, the young man from Mantattan's Upper West Side still felt different. As a young adult he drifted from college to college, job to job, relationship to relationship, never quite finding what he was looking for: a place beyond deafness. He found that place in the mid-1990s, when the Peace Corps posted him to a remote corner of Zambia. During his two-year stint working in a run-down health clinic in a rural village, he fought for irrigation projects and better AIDS facilities. He befriended a young local who played chess and provided constant counsel in the ways the young white American could—and did—run afoul of local tribesmen (and women) and their age-old ways. Deafness would have provided a unique sensory filter for anyone, yet while Swiller may have his particular aural capabilities, he also has literary talents—an eye, a voice and a narrative talent—in abundance. A story in any other Peace Corps volunteer's hands might have been humdrum, but in Swiller's becomes intensified, like the rigors of day-to-day Zambian life, through deprivation.
Where to find it:
Libraries: Clackamas Co | Ft Vancouver | Multnomah Co | Washington Co
Vendors: Powell's | Amazon | Barnes & Noble